In order to continue your case with Dandy, the partial try-in must be returned. In Chairside, you will be guided through this process and be able to print out a return label. Follow the steps below to properly pack and ship back your case.
Note - Cases that arrive damaged due to improper packing techniques are subject to delay. 
Prepare the partial - Place the partial denture on its model. For added protection, slip each arch separately into bubble sleeves.
Pack your box - Place the foam in the box base, then add the bubble-wrapped partial. Top with foam to secure during transit. Don't forget the order form.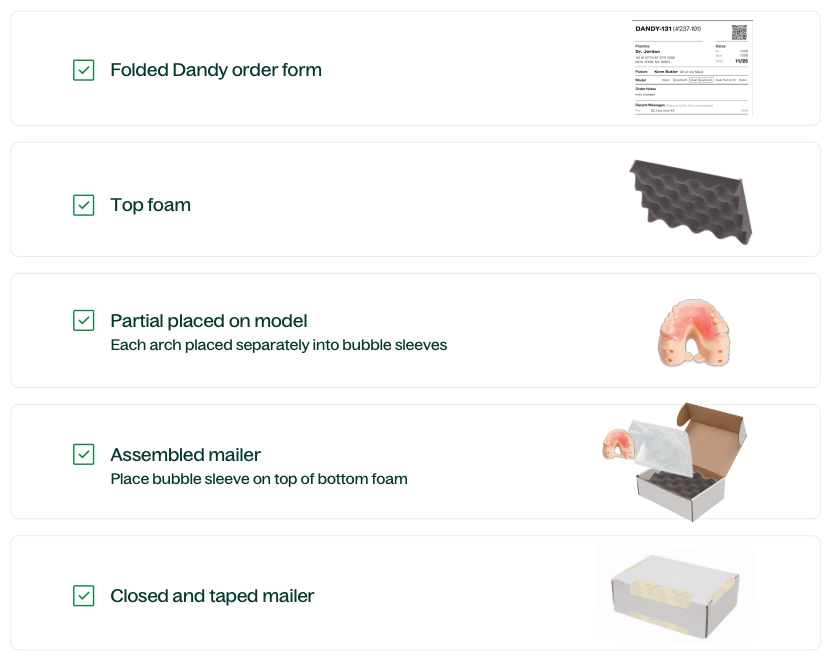 Seal your box and attach a return label- Assemble the mailer, seal the box tightly with tape to prevent unexpected openings, and tape the printed shipping slip to its exterior.
Drop-off -  Take your sealed box to the nearest carrier drop-off location. Ensure you receive a receipt or tracking number for your shipment.