We offer a variety of material options to enable you to deliver better-fitting partials for any patient stress-free.
Metal
Metal partial dentures offer excellent durability and strength, providing long-term stability and resistance to fracture.
Material - Milled Titanium 

Clasp option - Metal
Flexible - TCS / Valplast
Flexible partial dentures offer a comfortable fit and natural-looking aesthetics while being highly flexible and resistant to breakage.
Material - Thermoplastic Nylon Resin

Clasp option - Tissue Shade
Flexible - Duraflex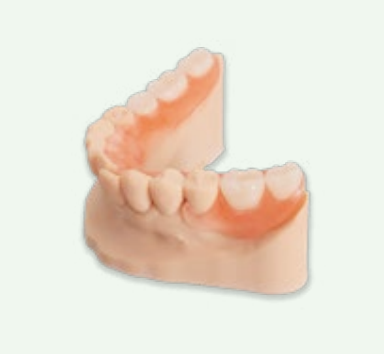 Duraflex partials provide exceptional durability and flexibility, ensuring a comfortable fit and allowing for easy adjustment. At the same time, their stain-resistant and non-allergenic properties offer long-term satisfaction and peace of mind for patients.
Acetal
Acetal partial dentures combine strength and flexibility, providing a lightweight, biocompatible solution with superior fracture resistance.
Material - Milled Polyoxymethlene Copolymer Disc

Clasp options:

Shades: A1, A2, A3, A3.5, B1, C3, G2 (Bleach Shade)
Pink Tissue Shade
Acrylic
Acrylic partial dentures are cost-effective and easily adjustable, making them a convenient and affordable option for replacing missing teeth.
Material - Lucitone 199

Clasp Options:

Wrought Wire
Ball Clasp
None - if retention allows
Hybrid
Hybrid partial dentures combine the stability and strength of metal frameworks with the aesthetics and comfort of a flexible RPD, offering a versatile and reliable solution that provides both durability and natural-looking tooth replacement.
Material - Metal + Flexible

Clasp Options: